Female coupling of the polyethylene is used to connect the polyethylene pipe to the threaded fittings or any accomplices that has male thread (such as core/piping, riser, and
filter…). Assume you plan to put a water On-off valve in the middle of your water pipe transmission line. This is where female coupling aids you. In general, screw fittings (such as polyethylene female coupling) include the following components:
2- Body 2- Socket/holder 3- Splitting ring 4- Bushing 5- O-ring
Body: Polypropylene copolymer
Socket: Polypropylene copolymer
Split: Polyoxymethylene (POM)
Bushing: Polypropylene copolymer
O-ring: (NBR_SBR-EPDM) can be delivered upon the customer's request.
In total, applying female coupling is superior to polyethylene male coupling bonding. Because there is a probability of breaking the male coupling threads and if it breaks, it will not be cost-effective because of its price.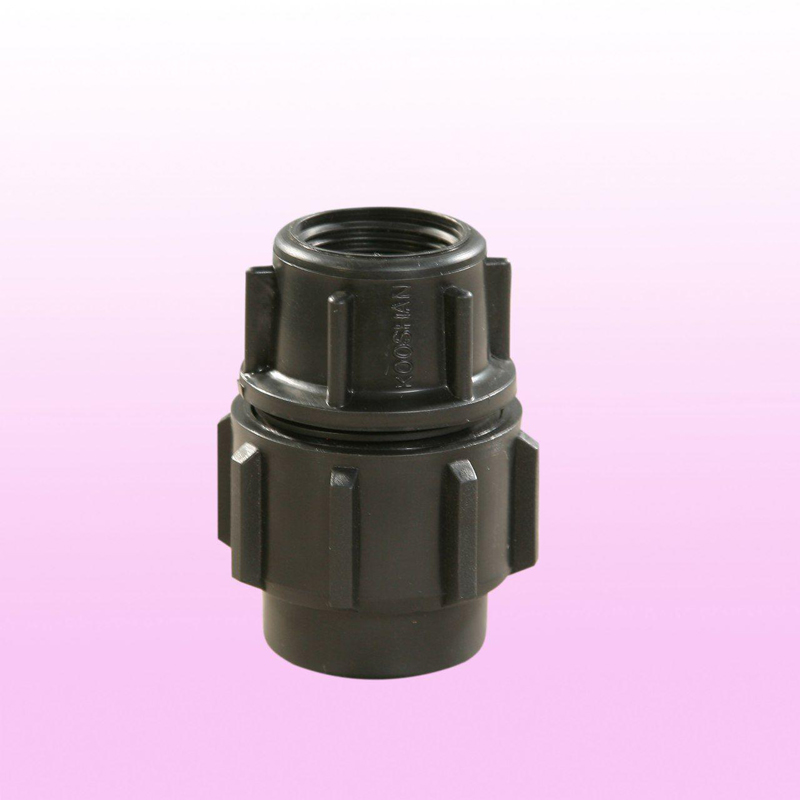 Female coupling (pp)
PN=10bar
| | | | |
| --- | --- | --- | --- |
| Size (mm/mm) | sack | Qty/box | Code |
| 20 *1/2 | 250 | 190 | 822201 |
| 25*1/2 | 216 | 140 | 822251 |
| 25 *3/4 | 216 | 140 | 822252 |
| 32 * 1 | 120 | 90 | 822323 |
| 40 * 1 1/4 | 72 | 48 | 822404 |
| 50 * 1 1/2 | 36 | 30 | 822505 |
| 63 * 2 | 30 | 20 | 822637 |
| 75 * 2 | 20 | 12 | 822757 |
| 75 * 2 1/2 | 20 | 12 | 822758 |
| 90 * 3 | 12 | 6 | 822909 |
| 110 * 4 | 7 | 4 | 892914 |