Polyethylene female knee is one of the types of polyethylene fittings, which is 90 degrees and is appropriate for parts that require to be bent and is applied in order to connect polyethylene pipes to valves and male thread fittings. This knee is applied in various fields such as drop irrigation systems and sprinkler irrigation in fields, gardens, and greenhouses, and also in the urban water supply system.
These knees are produced with sizes ranging from 1.2 to 5 inches; one of the advantages of applying Ethylene female knee is that it is easily installed so that it is not required to use a wrench to install these knees in small dimensions and we are able to install these knees easily by hand but we require cast iron and plastic wrenches to install, open and close the knees with large sizes.
Generally, female knee components include:
Body: Polypropylene copolymer
Socket: Polypropylene copolymer
Split ring: Polyoxymethylene (POM)
Bushing: Polypropylene
O-ring: (NBR_SBR-EPDM) can be delivered at the customer's request.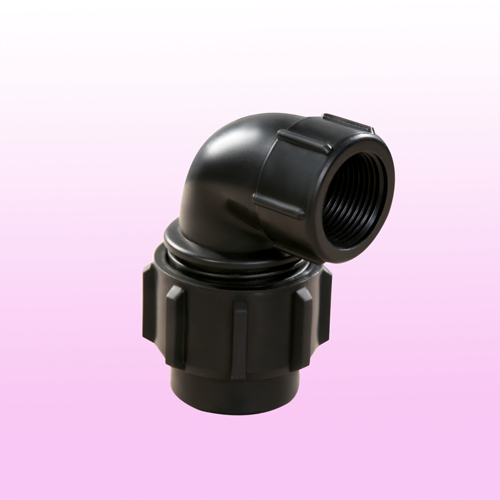 | | | | |
| --- | --- | --- | --- |
| Code | Qty/box | sack | Size(mm/mm) |
| 82920 | 150 | 210 | 20*1/2 |
| 829252 | 100 | 150 | 25*3/4 |
| 829323 | 70 | 92 | 32*1 |
| 829637 | 12 | 24 | 63*2 |